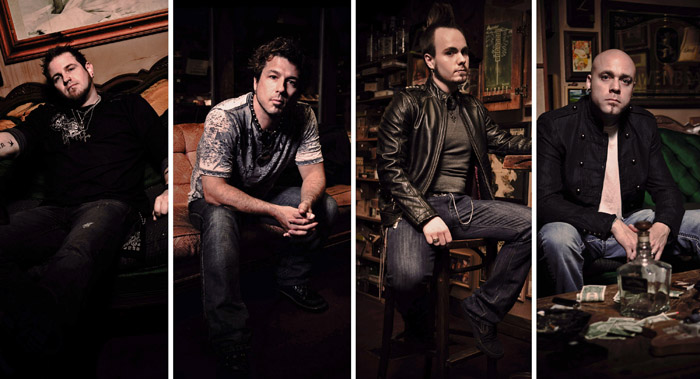 Gone For Days is a four piece rock band that you simply cannot mistake for anyone else: The unique sounding vocals and hooks of front man Chris Taylor with aggressive guitar playing of Jesse Hatch and the solid backbone of bass and backup vocals from Chris Dickman. It's only natural that you're now a fan and singing along with the band and your body is in full motion.
Boston based rock group "Gone for Days" originated in 2010 after lead vocalist Chris Taylor had left his current band Vegas Temper. His vision was to pursue a different songwriting direction that was more personal to him as a writer. Through a mutual management relationship, Taylor had met guitarist Jesse Hatch who at the time was in Florida who just accepted a job with a Universal Record label doing radio promotion, touring, as well as artist development in Nashville Tennessee. Ironically enough the radio promo stuff was done for various hip hop artists such as Flo-Rida (Atlantic Records) Boa (SM) Jon B (Arsenal/Universal) and some of Cee Lo's artists such as Eddie Fontane. The staff soon recognized Hatch's talent for songwriting and was soon outsourced as a songwriter. Hatch was still looking for a similar song writing situation as Taylor and the two forged a long-distance writing partnership, and would soon record what would be the first songs of the Gone For Days project. After catching the attention of major labels and management firms, Taylor and Hatch decided that it was crucial to live closer to one another. Jesse packed up his life in Nashville and moved to New England to unite with Taylor to build the band in its entirety.
It was now time for Chris and Jesse to complete the rest of what would become "Gone For Days".  Since Jesse had done some extensive studio work with A list studio musicians in Nashville, he knew who he could call for the bass player position. In the past Jesse had worked on a project in Nashville with vocalist and bassist Christopher Dickman.  The Gone For Days project was over 1,000 miles away, yet Jesse immediately text-ed Chris to brush up on his bass playing skills and asked Dickman to come to Boston for an audition. Determined to shine at the audition, Chris learned every GFD song in less than two weeks. After the auditioned, Dickman was accepted into the project and like Jesse, left Nashville and all his current recording projects to pursue Gone for Days full-time. They would now share the stage as "Gone For Days" with the lineup complete.
Management
Erik Baker & Chris Hower – Major Label Management
erik@majorlabelmanagement.com